UBTECH'S Cruzr Humanoid Robot
image credit : UBTECH
AI/Robotics company UBTECH which was founded 6 years ago with the aim of integrating 'intelligent robots into the daily lives of everyone in order to create a smarter way of life has raised a whooping $820 million; Capital to grow its leadership in the intelligent service robot industry and to put more funds into Research and Development to heavily improve on its already very intelligent and hugely innovative products.
On this round of funding, It should be noted that UBTECH has now surpassed AI startup
Sensetime
as the worlds most valuable AI startup by a gap of over $400 million.
Let's take a walk-through on UBTECH's products which we term as
"Hugely effective, innovative and awesomely efficient"
;
The company has released a swath of products which include The Lynx, The Alpha, The Jimu and The Cruzr, The company has also partnered with Disney with the release of The Stormtrooper, The company inked another partnership with Tencent which saw it release the Qrobot Alpha with each product coming with different Kit forms.
Its Jimu Robots are available at Apple stores worldwide, The Jimu Robot can be controlled using Apple's Swift programming language in many ways, For example; You can make the Jimu Robot dance using the Swift programming language on its accompanying Swift Playgrounds application, All kits of the Jimu Robot are codable characters which enables them to be controlled by various programming languages and can be used as a programming learning method for both kids and adults alike;
Its kits are the ;
BuilderBots Kit
AstroBot Kit
BuzzBot & MuttBot Kit
TankBot Kit
MeeBot Kit
Explorer Kit
Animal Add-On Kit
Inventor Kit
The Jimu BuzzBot & MuttBot Kit
Cruzr
The UBTECH Cruzr

UBTECH
The Cruzr is a custom cloud-based intelligent humanoid service robot with makes use of service applications for the accomplishment of a wide range of tasks in industrial and domestic environments.
Features ;
Flexible arms which provide users with rich and easy to understand body language
Natural Interaction
360º movement
Natural Interaction
: With 17 pairs of devices that use error-sensing negative feedback to correct the action of a mechanism, The Cruzr with its Four-Layer Protection System moves like a human and is capable of shaking hands, greeting visitors, moving around, dancing and hugging.
360º Movement
:With a posession of damage resistant coupled with the ability of its wheels to receive signals transmitting in all directions, the Cruzr moves smoothly and stable, whilst also being able to turn in any given direction at an instant.
The Cruzr humanoid robot makes use of real-time positioning and mapping technology to avoid obstacles, It also makes use of multi-modal synergies and coordination systems to make the interaction more fluid and more humanlike which in turn greatly improves the user experience.
The Cruzr comes with special face recognition technology - in this case, Possessing a 98% recognition accuracy which identifies faces within the range of milliseconds, It also allows for the use of third party resources for the effective implementation of emotion detection, age, gender, recognition, ethnicity and a wide range of other characteristics.
It also comes with a video calling system which combines cloud computing and the use of a high definition audio and video which ensures smooth transmission.
Other features consist of;
Right here are its specs;
Size: 1195(H)*521(W)*516(D)mm
Weight: 45KG
Color: White + Silver
Materials: Plastics, Metal
Battery: 20Ah 24V
Screen: 11.6-inch touch screen
Camera: 13MP HD Photo, 1080p Video
Speaker: Two-channel stereo, Unit: 3 inch*2; Output power: 6W*2;
Sensors:
6+0 MIC array in head
1 Depth-perception camera in waist
1 Lidar,
6 Sonar sensors,
12 IR sensors,
9-axis IMU in chassis
DoF:
1 DoF head
5*2 DoF (L/R) arms
1*2 DoF (L/R) hands
1 DoF waist
3 Omni-wheels
Operating System: Android & ROS
Velocity: Normal speed: 0.3m/s; Highest speed: 1m/s
Networking: Wi-Fi 2.4G/5G
Accessories: 1 Recharging dock, 1 power adapter, 1 user manual
Lynx
image credit : UBTECH
The Lynx is an alexa-enabled robot which can be used to perform a swath of commands and tasks, The Lynx robot can be used for the perfomance of different Alexa commands which include playing of favorite music, checking of current news, weather reports and so many other things of interest to the user.
UBTECH describes it as "The robot designed to get smarter and smarter" just like its Alexa software buddy.
Its features include;
Avatar mode which enables anyone to hear, listen and speak through his/her robot from any location in the world
Integrated capacitive touch sensors which lets the robots to instantly responds to human touch for taking commands and when in surveillance mode will automatically begin a 30 second encrypted record which would be stored securely for viewing by its owner
A voice activated 180°/1080p panorimic camera equipped with facial detection
Use of high powered microphones & speakers which enable its voice activaton and response system.
Use of Robotic Servo motors to enable different actions such as moving, stretching, dancing and the performance of so many other actions.
The Alpha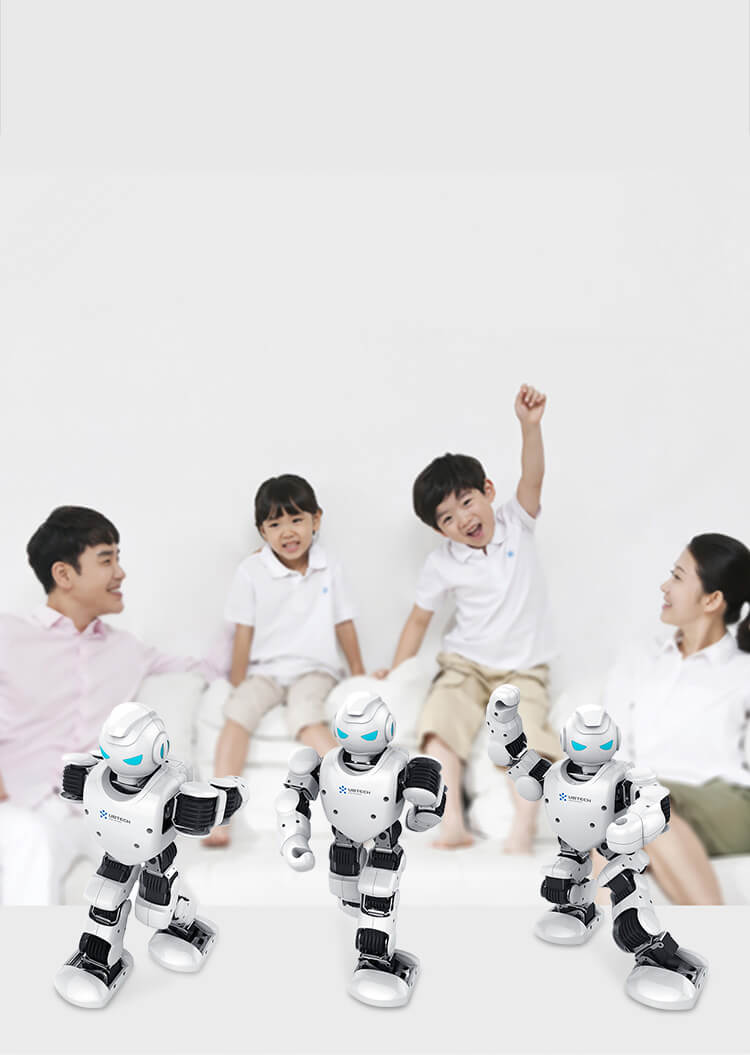 image credit: UBTECH
UBTECH's Alpha is a humanoid robot which acts as a companion serving for both learning and entertainment, The Alpha is a playmate and a teacher accompanying the user in everyday life tasks.
The Alpha might look very familiar because this particular robot appeared in the Transformers 5 movie, The Alpha packs a list of amazing features given that it works out, Takes part in sports and performs yoga.
The Alpha can be controlled through the use of a smartphone, The robot offers a game which uses programming language to control the robot thereby producing one of the best interactive learning modes out there which enables step-by-step mastering of programming codes.
The robot can also be programmed through the use of Blockly coding which involves the simple use of already exisiting code modules in the app coupled with adjusted parameters to make the robot perform different actions including dance and display of martial arts skills.
Actions can also be recorded for the robot to use later, For example you can perform a combination of certain movements which forms into a dance and store the program's name, Next time you interact with the robot to make use of that certain program, It repeats the same dance steps which makes it very fun and amazing to use!
You can also download the accompanying app which lets you share your moves and action with different people from all around the world in the online community.
The Alpha is very flexible due to it possession of 16 movable joints which supports its 360° rotation with a movement accuracy of 1°, The robot is built with Matte ABS plastic which is environment friendly and also responds smoothly to touch and is strong enough to withstand huge impacts in case of falls and accidents, The Robot has a very good quality of superior resistance to external obstacles which enables it to last for a very long period of time.
With this huge fundraising, we will now see UBTECH invest more into Research & Development which will churn out more innovative and awesome products in addition to its super-intelligent line of products already available right now.
"We currently give UBTECH's products and its company ecosystem a rating of ★★★★★."